Edward Austin Kent

Born
February 19, 1854
Bangor, Maine
Died
April 15, 1912


At Sea

(aged 58)
Edward Austin Kent (February 19, 1854 – April 15, 1912) was a prominent architect in Buffalo, New York. Born in Bangor, Maine, Kent moved with his family to Buffalo after the Civil War, where his father opened a successful department store, Flint & Kent. Kent was educated at Yale and then at the École des Beaux-Arts in Paris. Returning to the U.S. in 1877, he became junior partner in the Syracuse, New York firm of Sillsbee and Kent. In 1884 he returned to Buffalo and remained there for the rest of his career, helping to found the Buffalo Society of Architects and receiving many prominent commissions, including Flint & Kent.
In 1912, he took a two-month vacation to France and Egypt and planned on retiring after returning home. He decided to delay his trip home so he could travel on the maiden voyage of the new and luxurious ocean liner, the RMS Titanic.
Aboard the Titanic Edit
Kent traveled as a first-class passenger. He mingled with the other socialites, including Helen Churchill Candee and Archibald Gracie. He also met on occasion with a writers group. He perished when the ship struck an iceberg and sank on the night of April 14–15, 1912. As the ship was sinking, he disregarded his own safety to help women and children into the lifeboats. He was last seen at around 2:20 a.m. making no attempts to save himself as he was swept into the ocean. His body was recovered by the CS Mackay-Bennett as body No. 258 and claimed by his brother when the ship docked. He was laid to rest in the Forest Lawn Cemetery in Buffalo, New York.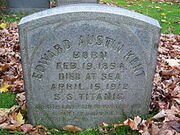 Coordinates: Template:Coord/input/dec
References
Edit
Bill Parke, "Edward Austin Kent in Buffalo, New York" [1]
"Mr. Edward Austin Kent", Encyclopedia Titanica [2]
External links
Edit
Ad blocker interference detected!
Wikia is a free-to-use site that makes money from advertising. We have a modified experience for viewers using ad blockers

Wikia is not accessible if you've made further modifications. Remove the custom ad blocker rule(s) and the page will load as expected.