Collapsible Boat D (port)
Edit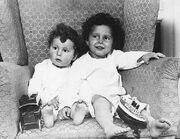 By the time Collapsible Boat D was launched at 2:05 am, there were still 1,500 people on board Titanic and only 47 seats in the lifeboat. Crew members formed a circle around the boat to ensure that only women and children could board.[1] Two small boys were brought through the cordon by a man calling himself "Louis Hoffman". His real name was Michel Navratil; he was a Slovak tailor who had kidnapped his sons from his estranged wife and was taking them to the United States. He did not board the lifeboat and died when the ship sank. The identity of the children, who became known as the "Titanic Orphans", was a mystery some time after the sinking and was only resolved when his wife recognised them from photographs that had been circulated around the world. The older of the two boys, Michel Marcel Navratil, was the last living male survivor of the disaster.[2]
About 20 people were on board when it left the deck under the command of Quartermaster Arthur Bright.[3] Two men jumped into it as it was being lowered, one landing upside down and the other landing half-out, before being pulled aboard by the occupants.[1] Carpathia picked up those aboard at 7:15 am.[4]
Ad blocker interference detected!
Wikia is a free-to-use site that makes money from advertising. We have a modified experience for viewers using ad blockers

Wikia is not accessible if you've made further modifications. Remove the custom ad blocker rule(s) and the page will load as expected.